André Chemin Brut Millésime 2011 (0,75l)
Popis
Šlechetná, ale nepředvídatelná příroda nám v některých letech daruje výjimečné cuvée. Vyrobeno z dvojnásobku Pinot Noir, než Chardonnay, toto ročníkové víno, částečně kvašené malolaktickou fermentací, které přisuzujeme jeho výjimečný charakter, zaručí úspěch vašich aperitivů či večeří.
T
Taylor
Hi there, My name is Taylor and I work at WhiteboardVideoService.com. I hope you are well at this difficult time. I'm mailing you because I found your site: champagne.cz and was wondering if you are interested in adding highly engaging videos for your website or social media to help drive sales and stand out from your competitors? If you are not the person to contact I would be very grateful if you could pass this message to them. Here are some of the video styles I create: 1. Bespoke Whiteboard Style 2. Captivating Animated Explainer 3. Engaging Chalkboard/Glassboard Style 4. Bold Kinetic Typography 5. Stunning Product Showcase and Professional Presentation Style Videos 6. Engaging Social Media Videos 7. Memorable Logo Animations If you are interested (or curious to know what these types of video are!) please check out my site whiteboardvideoservice.com. If you have any questions, or none of the videos speak to your imagination, I do many other styles as well, so please do reach out to me personally at help@whiteboardvideo.on.spiceworks.com. I've made a lot of interesting, audience captivating engaging videos, and I can do the same for you. You can see over 40 examples I did for other sites on WhiteboardVideoService.com. Right now, to help your brand stand out in these uncertain times, I'm doing a super special, where I animate your logo and add the animation to an existing video for only $20, breathing new life and fuelling user engagement. Check out my logo animation page to see all styles in the main site menu under products. Visit WhiteboardVideoService.com now to get started. I take care of everything for your video including engaging professional script and high quality music. It will really help bring your website or social media profile to life, engage your users, and help you stand out from your competitors. So head over to WhiteboardVideoService.com today to have a look. Any questions please reach out to me at help@whiteboardvideo.on.spiceworks.com. Kind regards, Taylor Jones Video Magician at WhiteboardVideoService.com P.S. You are probably wondering, even if I would like a video, I'm very busy, what do I have to do? After you purchase, I only need your website link. Yes, really. Have a question? Open a support ticket by emailing help@whiteboardvideo.on.spiceworks.com Already opened a ticket or want to add further details? Simply reply to any email from help@whiteboardvideo.on.spiceworks.com this will keep your questions and answers in one easy to refer to message chain. What to make videos yourself and auto post to all your social media too? We have a special software for that we are giving a 30 day trail on. Look for social video software under the product list menu on whiteboardvideoservice.com. Don't need videos yourself but want to sell to clients where we do all the work? Join our very generous affiliate program. Send a message to help@whiteboardvideo.on.spiceworks.com with Affiliate in the title. Looking for another service? Check out some of our other awesome products: Custom website chatbots to automatically increase website user engagement, automate customer service and lead capture, without any input from you, 24/7. mychattbotz.com Sales copywriting for bespoke sales letters, phone sales scripts and email marketing series mysaleswriter.com Finally, if this is not of interest, please accept my apologies and email your site URL to no@whiteboardvideoservice.com so you are not contacted again. I hope you have a great day.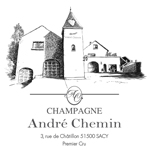 Champagne André Chemin je rodinne vinarstvi ktere letos slavi 70 let (1948-2018). Vinarstvi o velikosti 6.5 hektaru sídlící v malé vesničce jménem Sacy, v oblasti Petite Montagne de Reims. Jejich rocni produkce dosahuje 55.000 lahvi sampanskeho, prevazne z Pinot Noir s malym dotekem Chardonnay. Eva (rodila Prazacka) a Sebastian jsou treti generaci vyrabejici s laskou sampanske pod jmenem Andre Chemin (dedecek Sebastiana), na vinicich certifikovanych HVE (Haute Valeur Environnementale) a Viticulture Durable, dokazujicich jejich angazovanost v ochrane nasi planety.